There is so much to love about dining in Japan, but the one at Bourou NOGUCHI Hakodate is exceptional.
Relish the delights of Hakodate the globally-adored-city with our exquisite Kaiseki cuisine.

The three major concepts of Hakodate, Art of Culinary Creation, and Nature's Bounty is the original philosophy in Bourou way of dining.
Enjoy the heavenly convivium our chefs create with the fresh seasonal ingredients brought from Hakodate and its neighborhood to your heart's content.
DINNER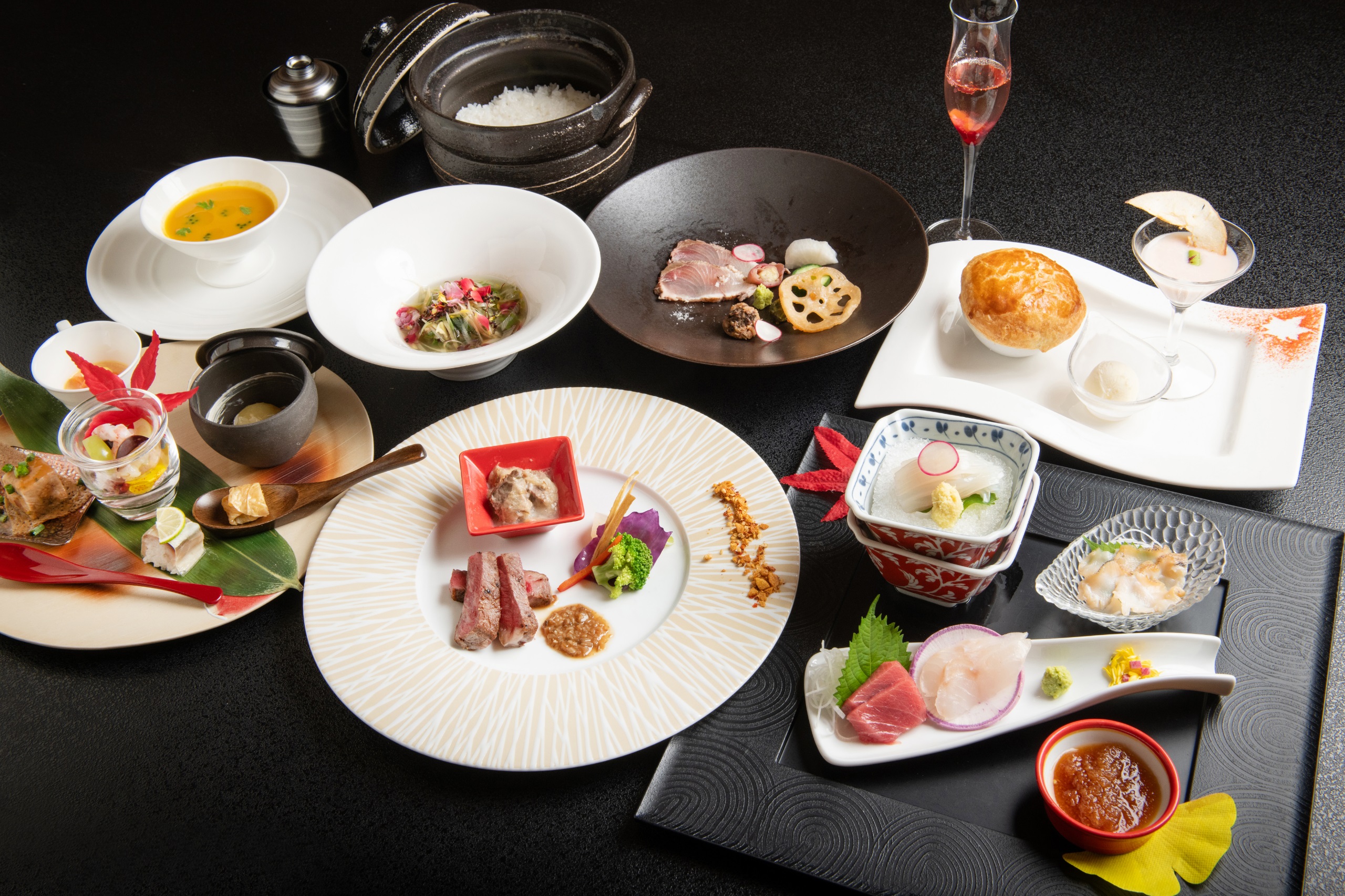 The much-awaited dinnertime is the main event of travel. Our chefs provide you the Hakodate delicacies in the absolute tranquility.

Savor the real pleasure of travel with our sumptuous Kaiseki cuisine.
Japanese Kaiseki is referred to as cuisine to please your senses with the fresh ingredients, gorgeous four seasons of Japan, and beautiful dinnerware.

Bourou NOGUCHI Hakodate has more: the joyful moments of you see the elegant presentations of the plate by plate, our love to Hakodate and the local treasure-trove of ingredients, and above all, saporous dishes.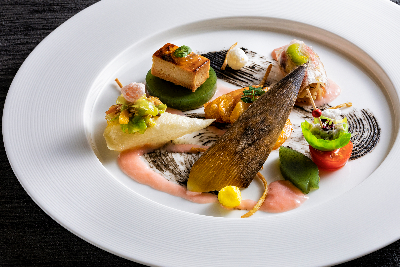 Fresh Local Ingredients
Bourou NOGUCHI Hakodate Exclusive "Pairing Wine Set" for Food and Wine's Marriage. Selected wines and Japanese Sakes for Pairing Wine Set to perfectly matched with your dishes are the dining experience at Bourou NOGUCHI Hakodate that you cannot miss. Gratify your mind and palate with the enchanting marriage of our seasonal Kaiseki dinner and Pairing Wine Set. *Pairing Wine Set is available with additional charge.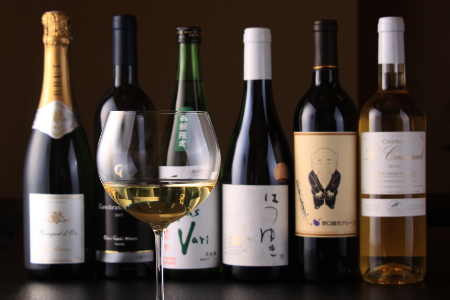 Enjoy our original Japanese-Western Kaiseki cuisine under the theme of Hakodate culture with a variety of fresh ingredients from Hokkaido and Aomori prefecture. Taste of Hakodate: Fresh squid Sashimi caught just in the morning is also one of the featured dishes you will love at Bourou NOGUCHI Hakodate.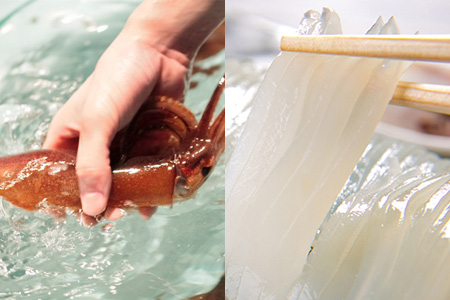 Entertaining Otsukuri(Sashimi dish) imaging the grand view of the Pacific Ocean is one of the prime dishes in our Kaiseki dinner course. You will love the fresh catch from around southern Hokkaido and north-east of Japan. Locally-brewed Japanese Sakes are the perfect match with Sashimi.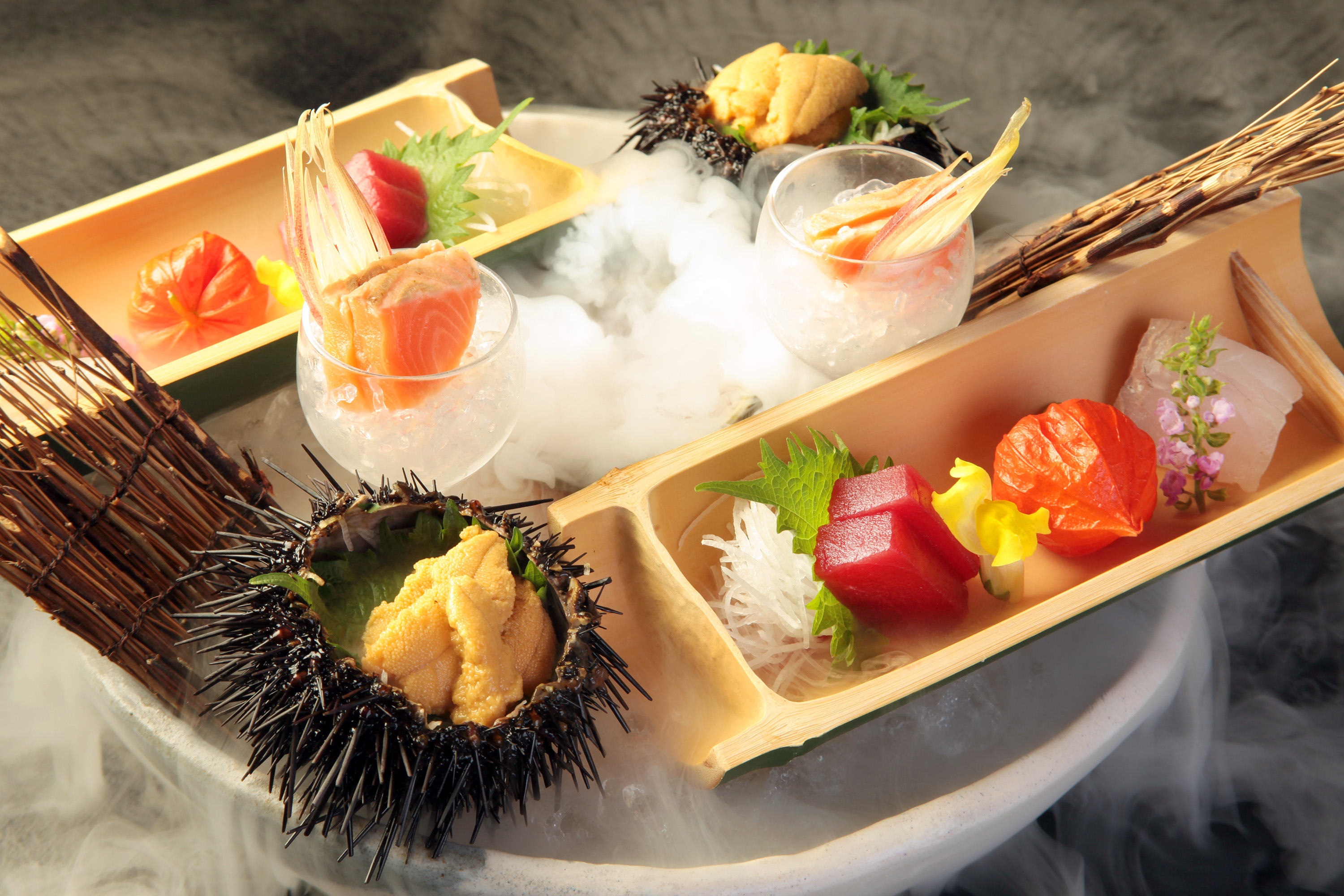 There is nothing like the pearly-white fluffy rice. We provide this essential way of delight in Japanese original dining culture with Hokkaido's boasting rice called Fukkurinko, rich in flavor and tender aroma freshly-cooked in the traditional iron rice pot. Enjoy our Fukkurinko with its best friends, assorted Japanese-style pickles.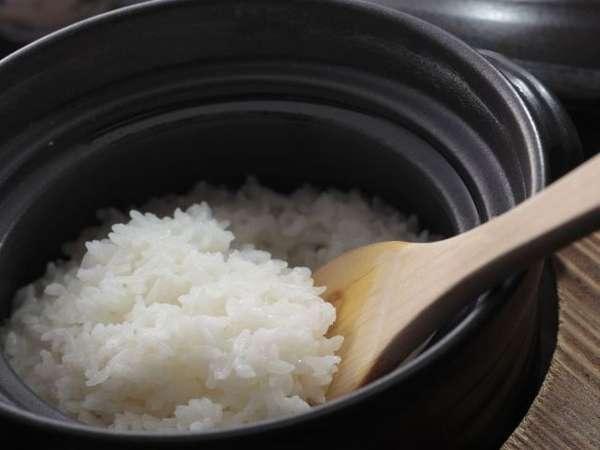 Kaiseki Cuisine
※写真はイメージとなります。
※食材の仕入れ状況により、料理内容が変更になることがございます。ご了承ください。
春の会席料理お品書き
KANPAI
~食前酒~
Original cocktail"pale Sakura"
OMOTENASHI
~歓迎の一皿~
"the visitor from spring"
spring roll, pincho of whitebait
New Monjya, foie gras brulee ~with apple jelly~
Atka mackerel grilled with miso sauce, gelidium jelly
SOUP~椀物~
Bamboo shoot & clam
OTSUKURI~お刺身~
"under the cherry blossom"
tuna~with kelp soy sauce & Wasabi~
sea bream~with kelp white soy sauce~
handmade marinate herring~no dip~
salmon sushi~with cherry blossom~
octopus~with handmade plum soy sauce~
surf clam~with kelp soy sauce & Wasabi~
MAIN①~お魚料理~
Cherry hybrid salmon grilled with miso béarnaise sauce flavor with balsamic sauce
~お口直し~
Watercress & snow crab soaked in consommé soup
MAIN②~お肉料理~
Grill beef with broccoli sauce & poivrade sauce
OSHOKUJI
~ごはん・留椀・香の物~
traditional iron pot boiled brand rice 「Fukkuringo」
chef's handmade pickles, 「Noboribetsu Fujizaki Wasabi farm」 Wasabi kelp,
sea bream Ochatsuke with plum taste, bamboo shoot・kelp red miso soup
DESSERT&DRINK
~デザート~
Plum blanc mange, strawberry fondant chocolate
Bergamot cake, milk ice cream
the oldest coffee shop at Hokkaido- 「Hakodate Misuzu」's coffee 
or Darjeeling / Earl grey or Sakura coffee latte or espresso coffee
望楼NOGUCHI函館
和食料理長 高井 大樹
洋食料理長 遠藤 慎也

※食材の仕入れ状況により、料理内容が変更になることがございます。ご了承ください。

Kaiseki Cuisine
Have your choice of Japanese cuisine distinctive of a port city or Western cuisine designed by our chef.
The Japanese menu features dishes distinctive of a port city. Our Western cuisine consists of stylish Mediterranean-influenced dishes focused on seafood from the Seikan region.
Spring Kaiseki Menu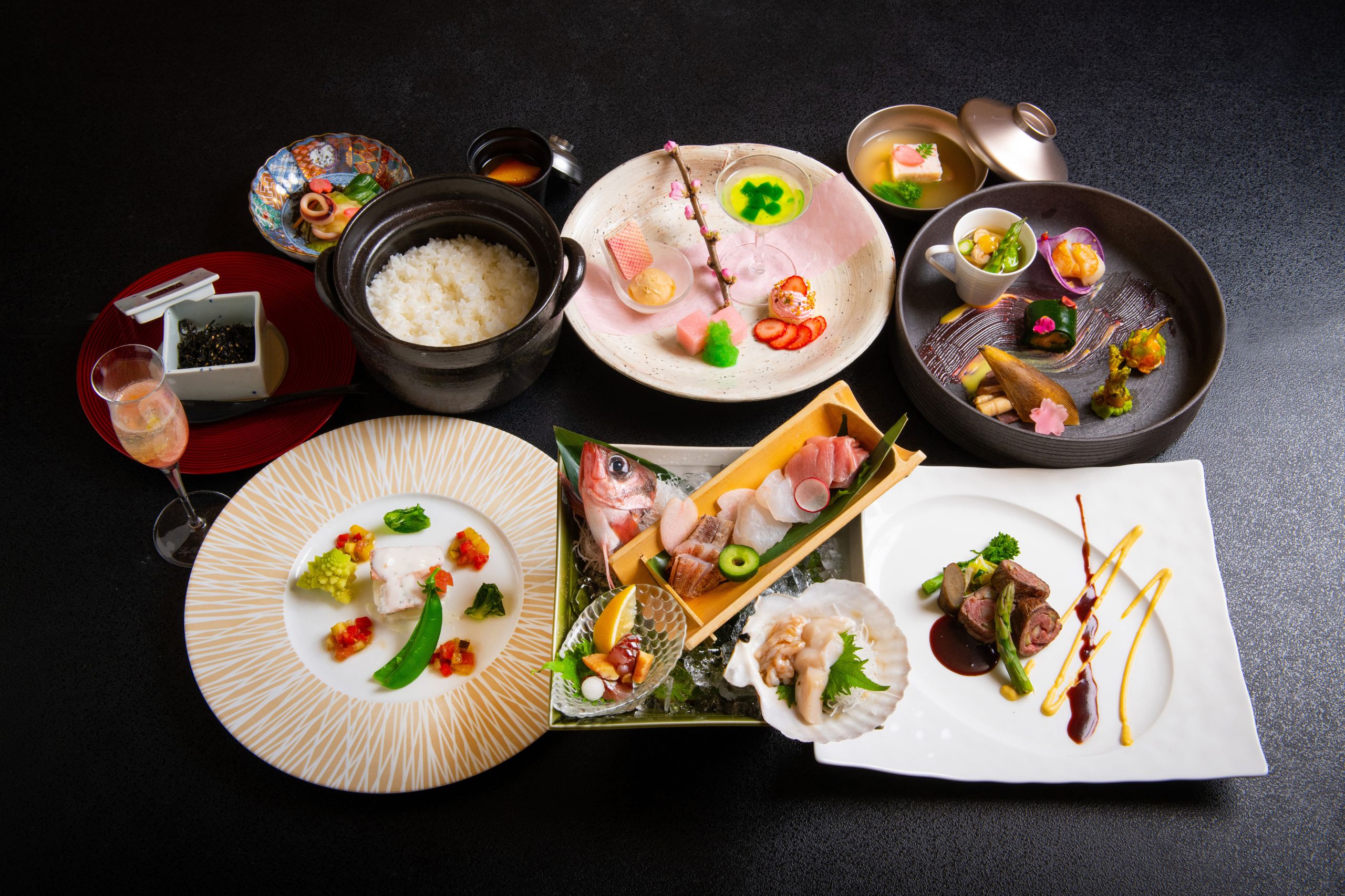 春は、函館が一気に華やぐ季節。春の訪れを待ち望んでいたかのように、アスパラや筍などの春野菜が一斉に出揃います。五稜郭に咲く桜のように、色鮮やかなお料理の数々。
Summer Kaiseki Menu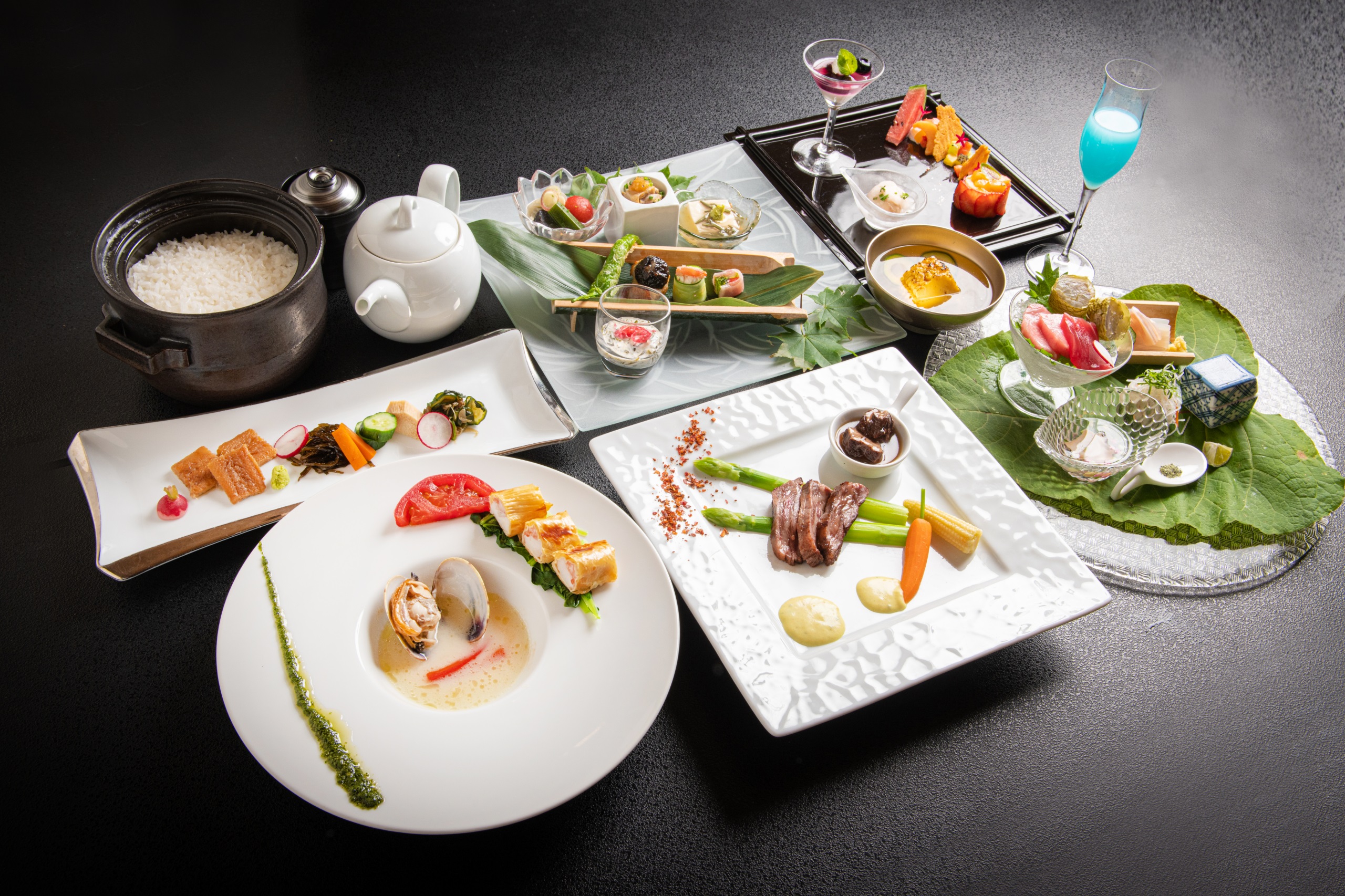 爽やかな函館の夏。この季節には、道南・青函エリアを代表するスルメイカやマグロ、北海道の大地が育む夏野菜が旬を迎えます。みずみずしさを感じるお料理をお愉しみください。
Autumn Kaiseki Menu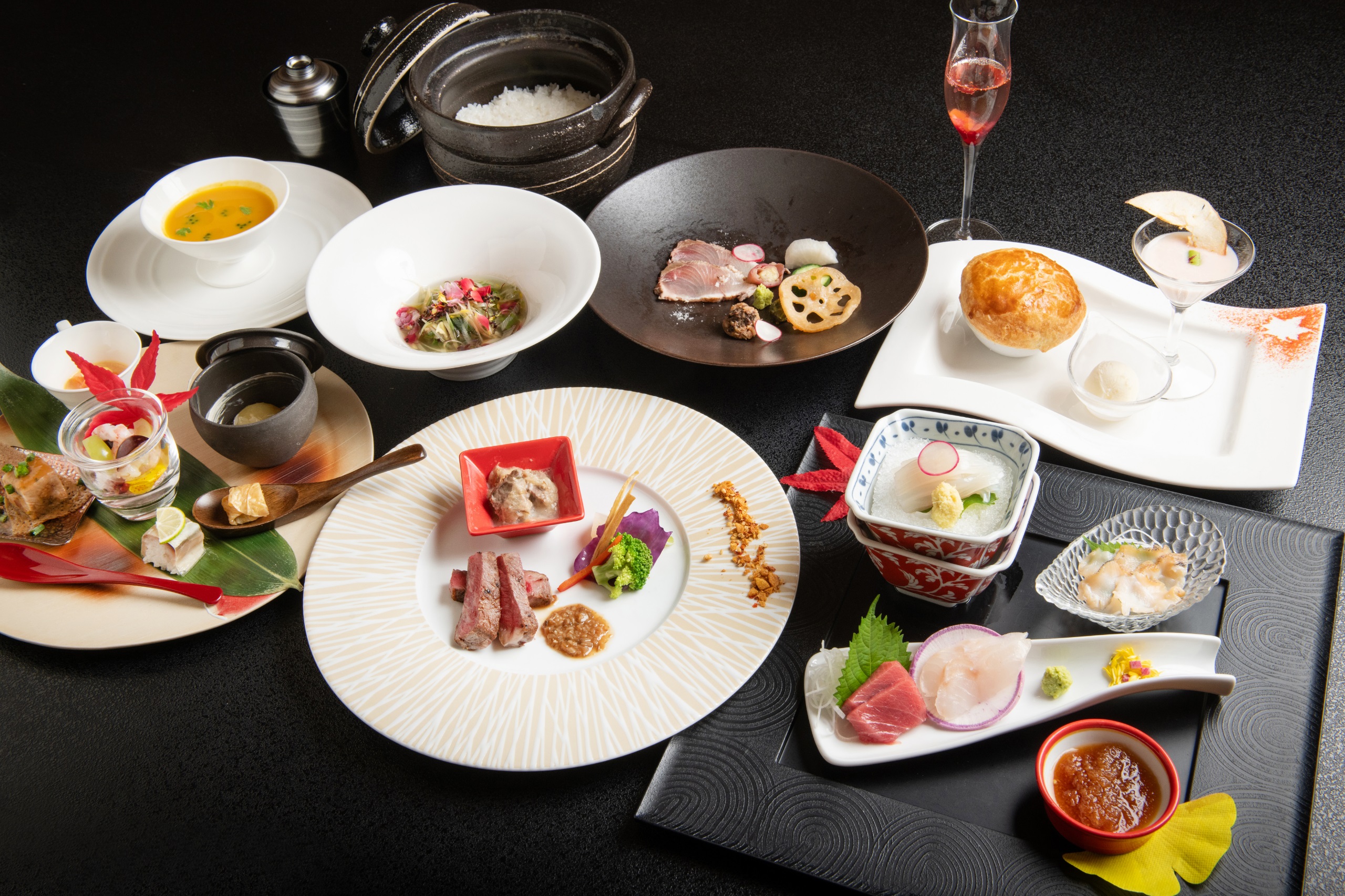 「実りの秋」とも言われる食材豊富な秋。夏の間栄養分を蓄えた山海の幸が最も食べ頃を迎える季節です。紅葉をモチーフにした見た目にも心温まるお料理をお召し上がりください。
Winter Kaiseki Menu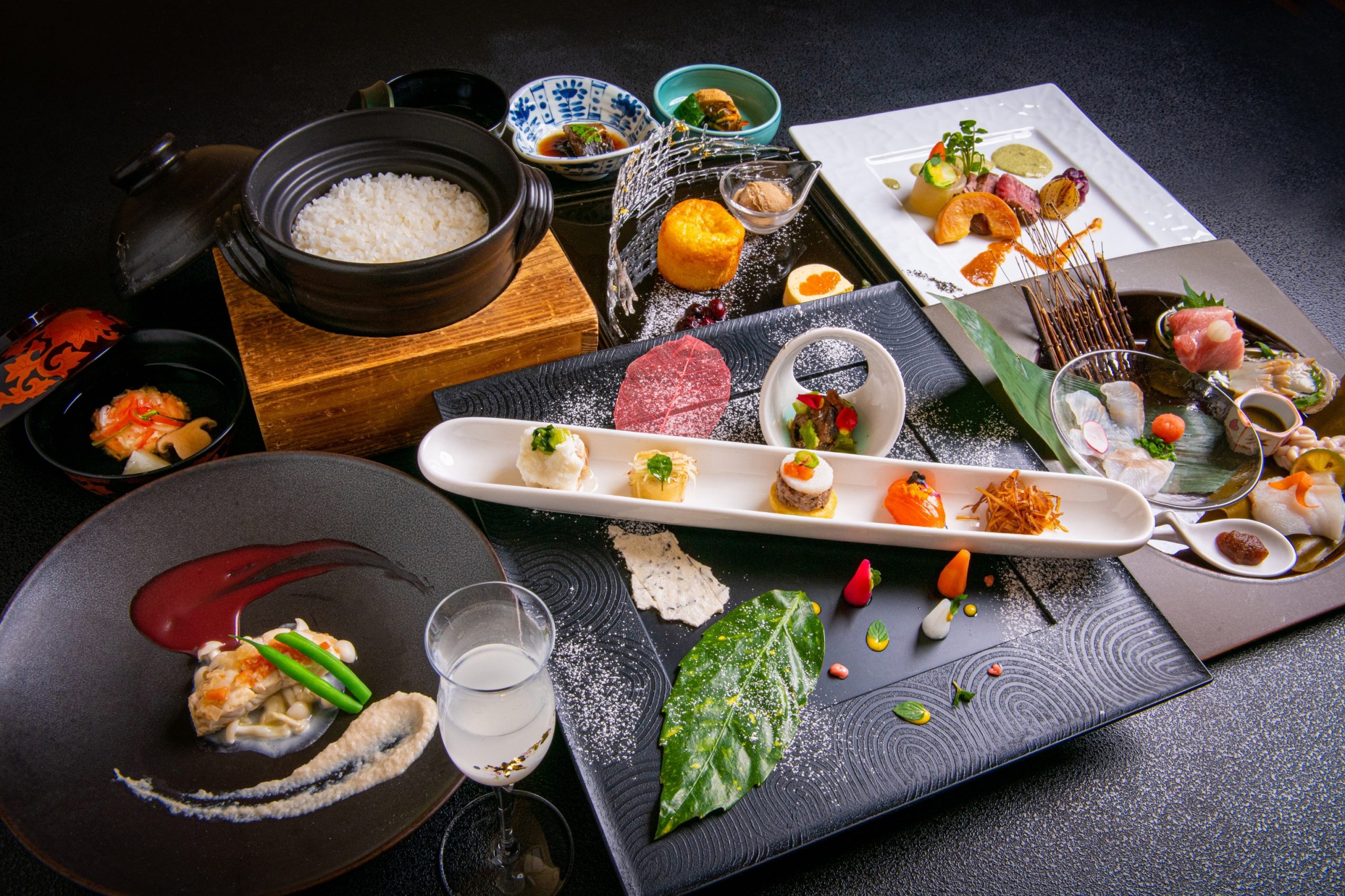 「北海道の食を味わうなら冬がいい」と言われているほど、その時期にしか食べられない食材が揃う冬。厳しい寒さの中、美味しさを蓄えた食材をお愉しみください。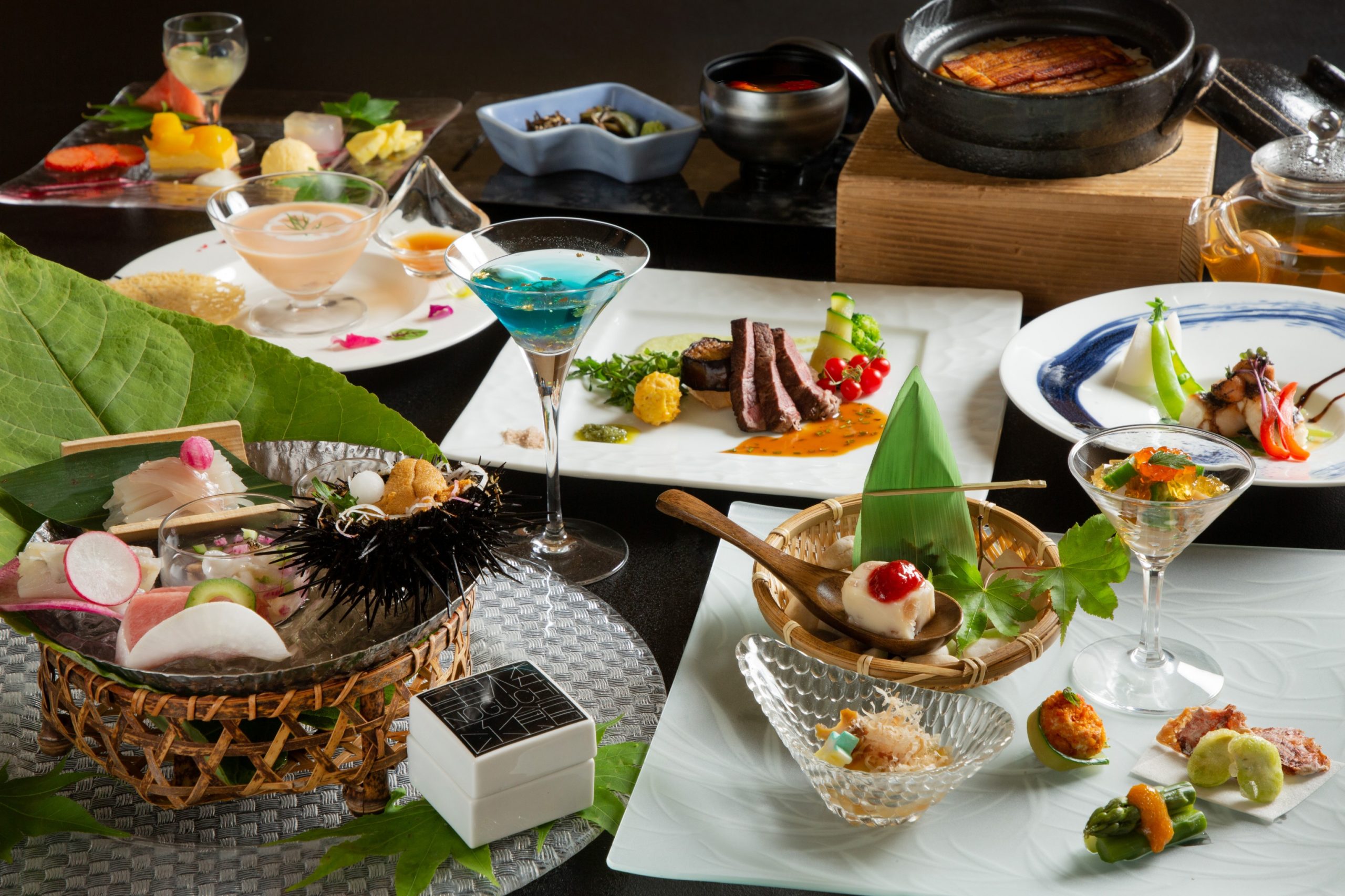 BREAKFAST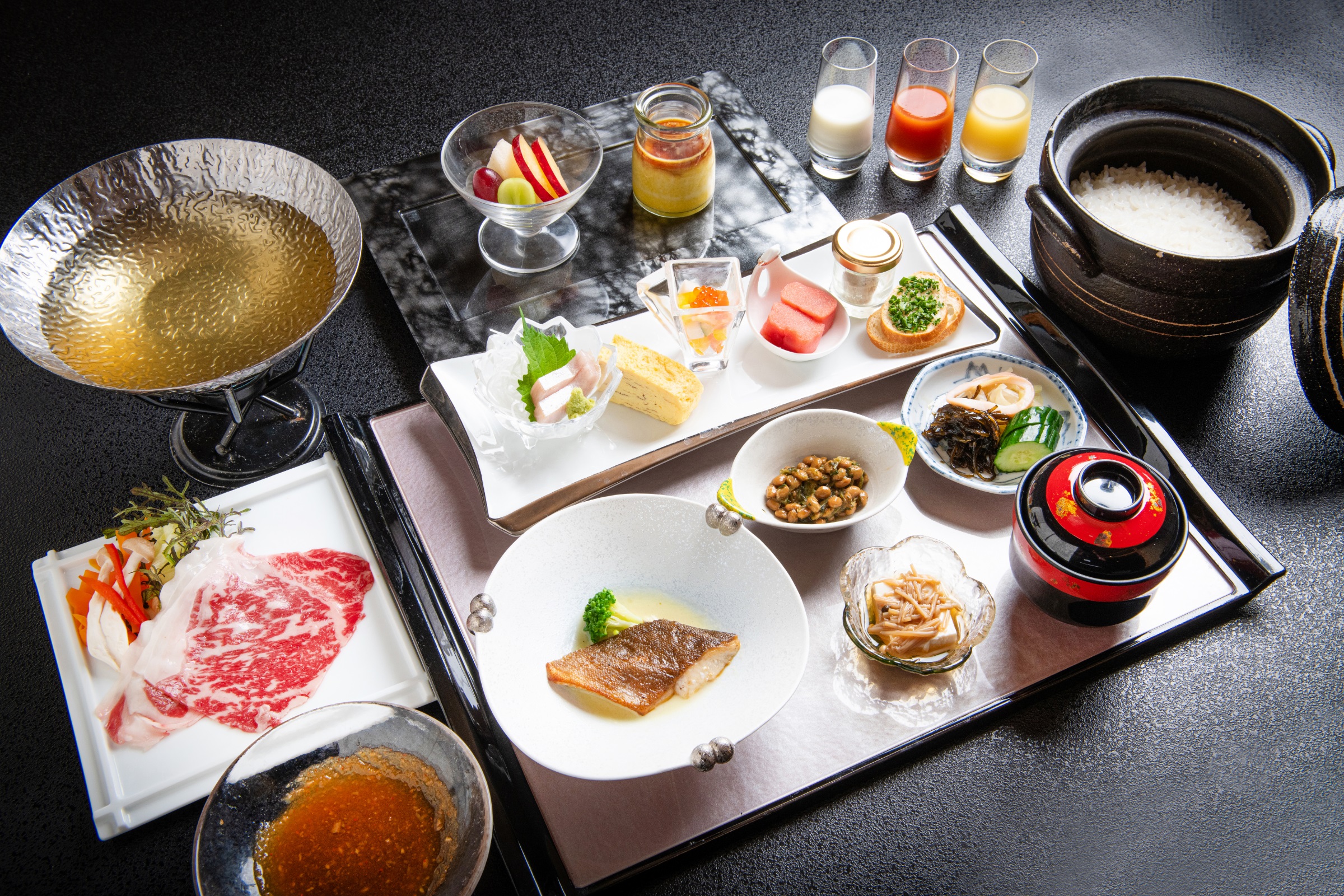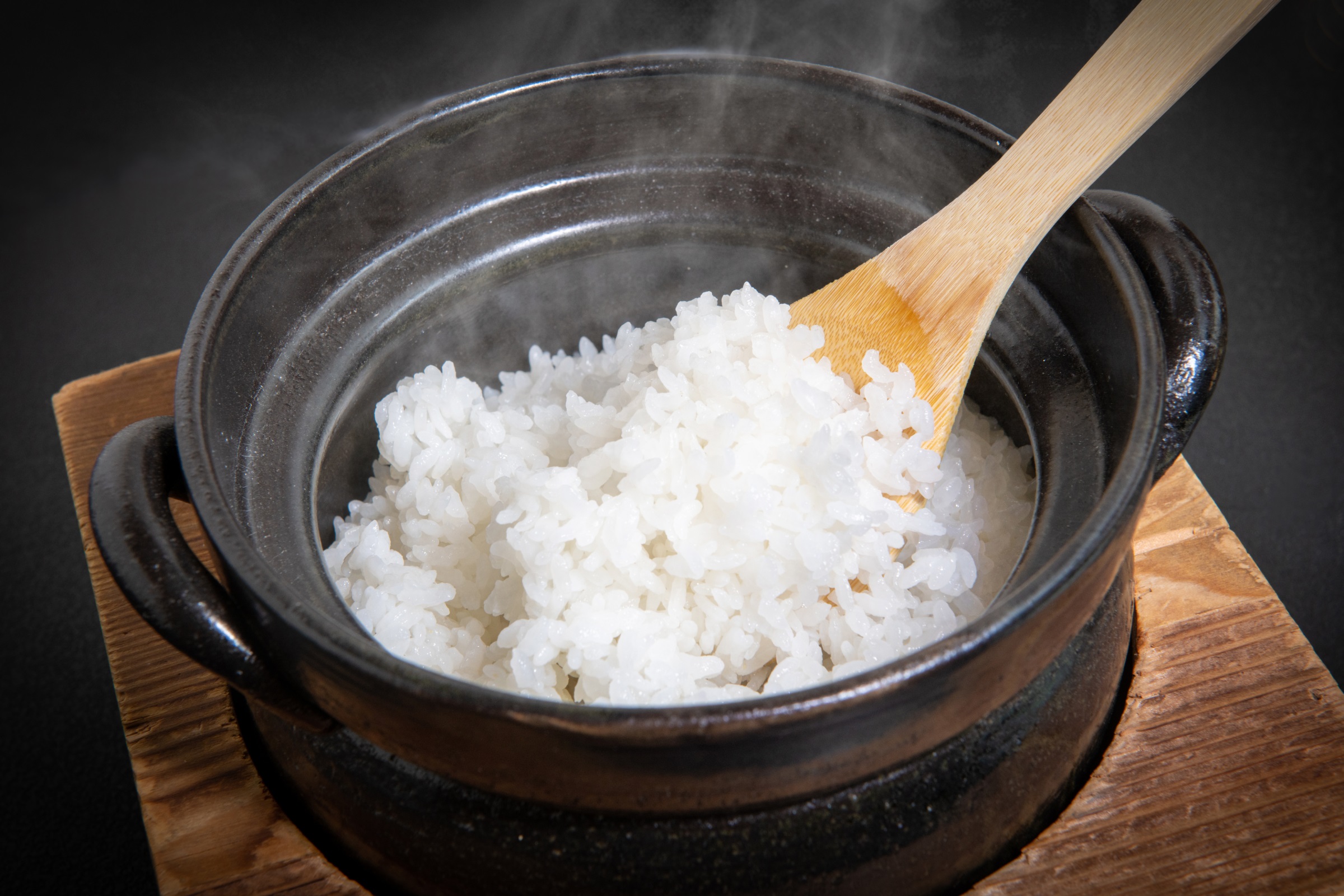 Select our delectable breakfast from the choice of traditional Japanese cuisine or Western cuisine after the morning bath.
The most important meal of the day at Bourou NOGUCHI Hakodate will make an incredible starter for your next trip.
The Japanese menu features dishes distinctive of a port city. Our Western cuisine is stylish Mediterranean-influenced dishes focused on seafood from the Seikan region.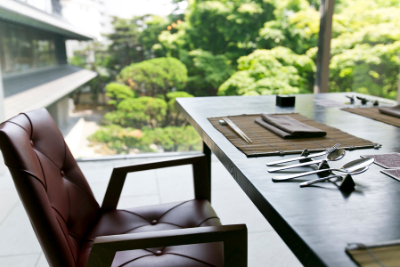 Kids Meal
Kids Meal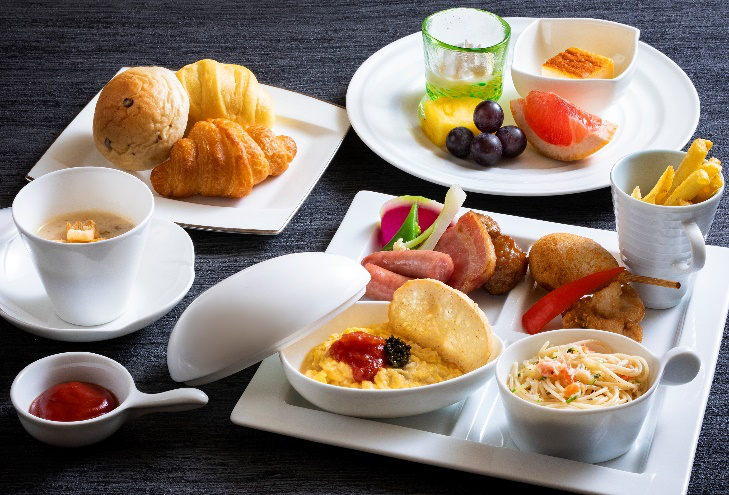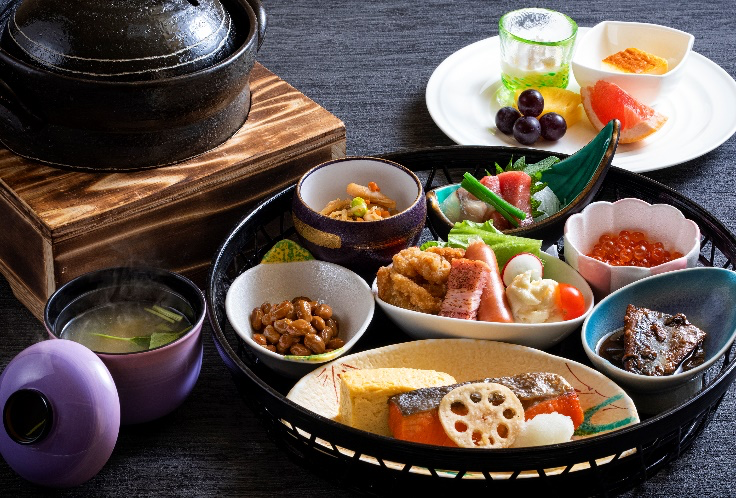 Kids Meal in Bourou NOGUCHI Hakodate, using selected ingredients produced in Hokkaido, will keep our younger guests entertained during their meal.
Dinner -------- ¥5500

Experience the delightful harmonization of Japanese cuisine with Western. Our chefs have gathered what children's favorite, including grilled meat/seafood, sashimi, fried food and chips as well as freshly-cooked rice and miso soup. Then satisfy your sweet tooth with a platter of cake, ice cream and seasonal fruits.

Breakfast --------¥2200

Fuel up for the day ahead either with traditional Japanese or Western breakfast. Our traditional Japanese breakfast consists of freshly-cooked rice and miso soup with a variety of side dishes such as grilled fish, Japanese omelette, small salad and seasonal fruits. For the Western breakfast, from eggs, chips, bacon and sausages, to assorted bread, soup and seasonal fruits, you will find plenty to fill up your plate with.


*Reservation for both dinner and breakfast are required.
*Sales tax is included.
*Photos are for illustration purposes, the menu is subject to change.